He was against it, before he was for it
h/t MagicGus
Via Mercury News;
[caption id="" align="alignnone" width="240" caption="Jerry Brown and pal Gavin Newsom"]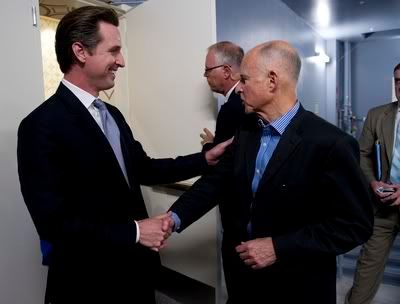 [/caption]
SACRAMENTO, Calif.—California Attorney General Jerry Brown told the editorial board of The Sacramento Bee that he is not morally opposed to the death penalty, even though he said the opposite in 1992.

The Democratic gubernatorial candidate made the comment Friday. Brown says he would "prefer a society that didn't have to use the death penalty" but also has said consistently that he will enforce the law.

He was a vocal opponent of capital punishment as governor from 1975 to 1983, once suggesting that banning it would elevate society to a "higher state of consciousness."
However...as late as 2002 we have him saying this;

Via RedCounty;
Lately, Jerry Brown has been implying that as governor, he will "uphold the law" in California (whatever that means in Moonbeam's mind), even going so far as to imply he'd support the death penalty.

In this short video clip we have dug up from his run for mayor of Oakland, you can see he said something quite different as recently as 2002!

Jerry actually has the impudence to argue the case that he's an effective leader, citing evidence that he "stopped the death penalty" as governor. Time for a little history lesson, which apparently Jerry thinks we have all forgotten.

First to the tape: During the Oakland debate he called himself effective because "I not only opposed the death penalty, but as governor I stopped the death penalty. We didn't have anybody executed when I was governor of California."

And how's this for effectiveness? An outraged Legislature had to override his veto of the death penalty to restore it in 1977. The next year, California voters spoke too, and strengthened the law. And then, finally, in a stunning display of what Brown call effectiveness, the electorate was so disgusted with Brown that they overwhelmingly threw out his anti-death penalty judges he'd placed on the state's Supreme Court.
Yeah, need us some more Jerry Brown.
Go see Meg Whitman.