This is an admittedly racist, politically incorrect cartoon.  It is also satire.  I got the idea from Elizabeth (I'm a Cherokee Princess) Warren.
One of her first explanations was, "My Aunt Bea has walked by that picture at least a thousand times, remarked, that her father, my pappaw, had high cheekbones like all of the Indians do, because that's how she saw it, and she said 'your mother got those same great cheekbones and I didn't.' She thought this was the bad deal she had gotten in life."
So a physical trait gave Elizabeth the ancestry she needed to get preference for college entrance AND perks afterward.  She knew she had Native American blood because her grandfather had high cheekbones? Wow.
In homage to her I offer this toon.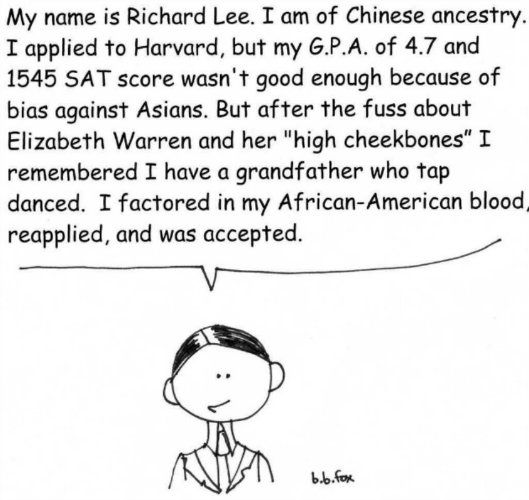 originally published  http://www.rightnation.us/forums/index.php?app=blog&module=display&section=blog&blogid=44&showentry=5074